HEP welcomes St. Paul's!
By MissionHEP | July 26, 2010 at 01:24 PM EDT |
No Comments
Our work group from St. Paul's, Alexandria is here! Their first task is a new deck. Please check back soon for pictures!

And the work goes on...
By MissionHEP | July 12, 2010 at 02:10 PM EDT |
No Comments
HEP received the news a few weeks ago that the work group from St. James, Leesburg, would not be able to make their annual trip to McDowell County this summer. In trying to keep with our commitment to help those of the region who are in need, Lori, along with Bucky, David, and Josh, set out to complete one of the projects that were assigned to St. James.

The task was to construct a more sturdy handicap ramp for a nearby resident. She got the ramp, along with a new porch. This gave her a second (and safer) way to exit her home. Previously, the only way out of her home was through the back and on a ramp that has become less and less safe over the years.

It marked a number of "firsts" for Josh:

First time using a sliding compound miter saw.
First time building a deck.
First time building a handicap ramp.
First time laying concrete.

This project took two days and four people to complete. Can you give two days and come have a summer of "firsts", like Josh?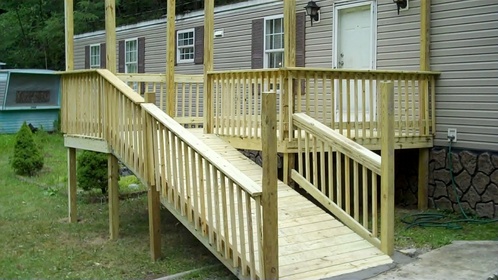 Letter to the HEP Board of Directors
By MissionHEP | June 28, 2010 at 10:25 AM EDT |
No Comments
This letter is from St. Barnabas' Episcopal Church, MD. They have been coming to do mission work in the area for the last 32 years, and for that, we are truly grateful.


June 22, 2010

TO: The members of the Board, Highland Educational Project
The Bishop of West Virginia

FROM: The Congregation, Vestry, Young People
St. Barnabas' Church, Leeland
Lawrence Harris, Jr., Rector


With this brief note I extend hand delivered thanks from our church for the opportunity you have provided us to participate in HEP and its ministry each summer since 1978. What began for us as a way to help the young members of our church experience the joy and fulfillment that comes with reaching out to others has nurtured the way of our Lord in our midst in ways for beyond measure.

Today we are more and more able to recognize that as the people of God we are called to work, pray, and give toward the achievement of the Millennium Development Goals. HEP remains a vital part of our teaching that God is calling us now to broaden and deepen our outreach so that people everywhere can live with confidence in newness and fullness of life- the ongoing will and way of God for us all (BCP, p. 861).

You have our lasting appreciation and our continuing support for the part you continue to play through HEP in leading the Church with HEP's mission and ministry of care.



Welcome to the new HEP Blog!
By MissionHEP | June 28, 2010 at 10:10 AM EDT |
No Comments
Thank you for taking the time to check out our new home page. Here, you will now find HEP related news, stuff on our work groups, and anything that might be related to our outreach activities.

Y'all come back now!